Luang Pu Moon and His Sacred Amulets
In the realm of the sacred, where time dances with eternity, there lived a revered monk, Luang Pu Moon Tidtasilo of Wat Ban Jan. His presence, like a celestial melody, graced the hearts of the faithful for over a century. With every breath, he embodied the essence of purity and wisdom, guiding seekers along the path of enlightenment.
The Radiant Guru of Wat Ban Jan
Under the luminous skies of Srisaket province, Luang Pu Moon emerged as a beacon of spiritual light. Born on the auspicious day of April 15, B.E. 2437, he was destined to illuminate the world with his profound wisdom and compassionate teachings. As a young novice, he embarked on a spiritual journey under the guidance of the esteemed Phra Ajahn Sida, the abbot of Wat Ban Jan. At the tender age of 23, he ordained as a monk, setting foot on the sacred path of self-discovery.
Luang Pu Moon: A Beacon of Wisdom and Compassion in the Thai Forest Tradition
Born in 1870 in northeastern Thailand, Luang Pu Moon emerged as an extraordinary figure within the Thai Forest Tradition. Renowned for his brilliance as a scholar, his gift for guiding meditation, and his profound humility and compassion, Luang Pu Mon quickly ascended the ranks of the monastic hierarchy after his ordination as a monk at the age of 20.
Exploration of the Forests: Discovering Tranquility and Solitude in Nature's Embrace
In the early 1900s, Luang Pu Mon embarked on extensive travels throughout Thailand, dedicated to disseminating the teachings of meditation and the Dhamma. However, he was particularly captivated by the serene ambiance of the forests, which he believed held the key to finding inner peace and solitude. As a result, he established numerous forest monasteries where monks could lead simple lives and engage in the practice of meditation amidst the natural surroundings.
Controversial yet Respected: Challenging Conventions with Unorthodox Teaching Methods
Luang Pu Moon's unconventional teaching methods and emphasis on solitary meditation stirred controversy during his time. While some criticized his approaches, many revered him, including the king of Thailand, who held him in high esteem. Luang Pu Moon's reputation was built upon his unparalleled wisdom, boundless compassion, and his ability to guide individuals towards liberation from suffering.
Remembering Luang Pu Moon's Enduring Teachings
At the age of 79, in 1949, Luang Pu Moon passed away, leaving behind a profound impact on the Thai Forest Tradition. Regarded as one of its most significant figures, his teachings continue to inspire millions worldwide.
Key Teachings of Luang Pu Moon:
The Primacy of Meditation:

Vipassana (Insight Meditation) and Samatha (Concentration Meditation)
Luang Pu Moon stressed the pivotal role of meditation in attaining liberation from suffering. His teachings encompassed various meditation techniques, including vipassana, which cultivates insight into the true nature of existence, and samatha, fostering concentration and tranquility.
Embracing Simplicity:

Living Humbly and Detaching from Material Possessions
Luang Pu Mun advocated for simplicity as a vital aspect of spiritual progress. He guided his disciples to lead modest lives and detach themselves from material possessions, recognizing that true fulfillment lies beyond the allure of worldly attachments.
Cultivating Boundless Compassion:

Extending Care and Empathy to All Beings
For Luang Pu Moon, compassion stood as the pinnacle of spiritual practice. He implored his students to develop boundless compassion towards all beings, even extending it to their adversaries. This unwavering empathy became a transformative force in overcoming suffering.
Eternal Relevance of Luang Pu Moon's Teachings:
Today, Luang Pu Mon's teachings retain their profound significance. They provide a path towards liberation from suffering and illuminate the way to a compassionate existence, resonating with seekers around the globe. Luang Pu Moon's life and teachings continue to serve as an enduring source of inspiration and guidance. His unwavering commitment to meditation, simplicity, and compassion provides a beacon of light in the vast expanse of spiritual exploration, beckoning individuals towards a life of wisdom and selflessness.
Unveiling the Mysteries of the Dhamma
Driven by an insatiable thirst for knowledge, Luang Pu Moon embarked on a pilgrimage through the dense jungles and sacred wilderness of Thailand, Malaysia, Laos, and Cambodia. In his quest to deepen his understanding of Dharma and unlock the secrets of magic, he sought the counsel of great gurus who possessed ancient wisdom. The mystical forests became his temple, and the whispers of the wind carried him closer to enlightenment.
"The jungle was my sanctuary, the hidden realm where the secrets of the universe unveiled themselves. The great gurus became my guides, igniting the fire of knowledge within."
Luang Pu Moon's Miraculous Amulets

As Luang Pu Moon journeyed through the realms of enlightenment, he honed his skills in the art of creating sacred powder. Under the tutelage of Phra Ajahn Sri Chantasiri, a lineage descendant of Somdej Phra Puttajarn Dto of Wat Rakang, he mastered the ancient formula of infusing sacred powders into amulets. He also learned the intricate craftsmanship of alloy-based amulets from the venerable Somdej Phra Sangkarach Pae of Wat Suthat and the mystical knife-making techniques from Luang Phu Kam and Luang Por Ngern, esteemed teachers of Luang Por Derm of Wat Nong Po.
"The sacred powders, blended with devotion and the ancient knowledge bestowed upon me, brought forth amulets of extraordinary power. They became vessels of blessings, radiating protection and fortune to those who held them close."
The Enigmatic Aura of Luang Pu Moon's Amulets
In the realm of the sacred, where the ordinary transcends into the extraordinary, Luang Pu Moon's amulets emerged as coveted treasures. Their allure was not merely in their physical form but in the intangible power that resonated within. Phra Somdej, the embodiment of divine blessings, graced the lives of the faithful, bestowing protection, luck, and the fulfillment of desires. Phra Pidta, the closed-eye Buddha, guarded against malevolent forces and brought prosperity to those who carried its sacred presence.
Mystical Encounters with Luang Pu Moon
Countless are the tales of devotees who experienced miraculous encounters with Luang Pu Moon's amulets. Their lives transformed, their prayers answered, they stood testament to the sanctity and power that dwelled within these sacred artifacts. The journey of a businessman, marred by obstacles, took an enchanting turn as he embraced the amulet. Success and abundance flowed like a mighty river, carrying him to new heights. Others, facing the specter of premature accidents, found solace and protection within the divine shield of Luang Pu Moon's creations.


"In the realm of the sacred, the amulets of Luang Pu Moon hold the key to transformation. They are gateways to blessings and miracles, connecting us to the divine forces that guide our lives."
A Host of Kroo Ba Ajarn Masters and Wisdom
Throughout his extraordinary life, Luang Pu Moon sought the guidance of esteemed masters, weaving a tapestry of wisdom that enhanced his spiritual journey. Phra Ajahn Sida, Luang Pu Mun Purisatto, Luang Pu Waen Suchino, Somdej Sangkarach Pae, and many other luminaries illuminated his path. Each encounter enriched his knowledge, fueling the divine flame within his being.
"I walked the sacred path, hand in hand with the great masters. Their wisdom merged with mine, creating a symphony of enlightenment that reverberates through time."
Honoring Luang Pu Moon's Divine Presence
Luang Pu Moon, the luminous guardian of wisdom, left his mortal shell behind on March 11, B.E. 2546, at the age of 109. But his spiritual presence endures, continuing to empower amulets even in the realm beyond. His sacred instructions, bestowed upon his disciples, guide the ceremonial empowerment of amulets, ensuring the transmission of his divine energy.
"Time transcends its boundaries. Luang Pu Moon's presence permeates the ethereal realm, enveloping us in his divine grace."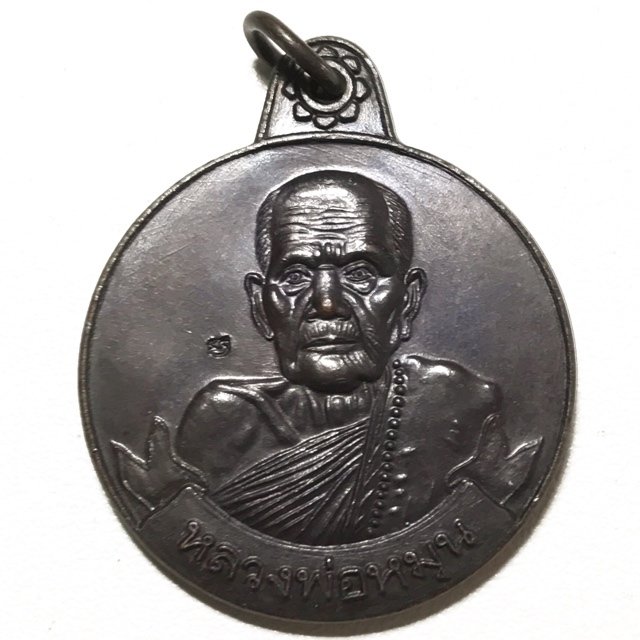 A Treasured Legacy, A Sacred Connection
Luang Pu Moon's amulets have become rare treasures, their scarcity a testament to their immense value. As they find their way into the hearts and collections of devoted followers and collectors, their price soars ever higher. For those who recognize the depths of Luang Pu Moon's attainments, the amulets become sacred conduits, bridging the realms of human existence and the divine.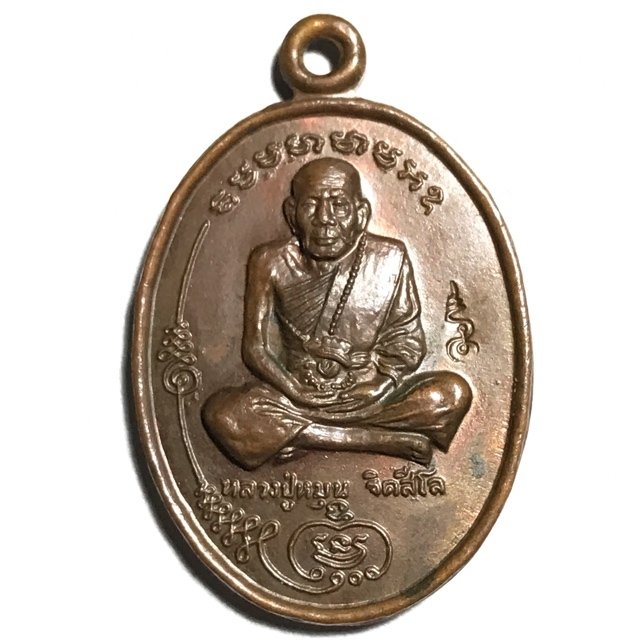 A Journey of Reverence and Blessings
To honor Luang Pu Moon and partake in his divine blessings, one must embark on a sacred journey of reverence. Thursdays, a day imbued with celestial vibrations, provide the ideal backdrop for offering prayers and homage. The altar comes alive with 16 incense sticks, their fragrant whispers ascending to the heavens. Two lit candles illuminate the path, while white flowers, like celestial messengers, convey reverence and devotion. A puang malai garland, delicately woven with love, adorns the sacred space.
"Our offerings transcend the mundane. They become gateways to the divine, portals through which blessings flow."
The Divine Connection
As we delve deeper into the mystical realm of Luang Pu Moon and his sacred amulets, let us remember that it is our faith and devotion that unlock the doors to the sacred. May his teachings resonate within our hearts, guiding us towards the path of enlightenment. Let us carry his amulets with reverence, cherishing the divine connection they offer.
"We become one with the cosmic dance, merging with the divine energies that guide our souls. Luang Pu Moon's amulets are the keys that unlock this ethereal union."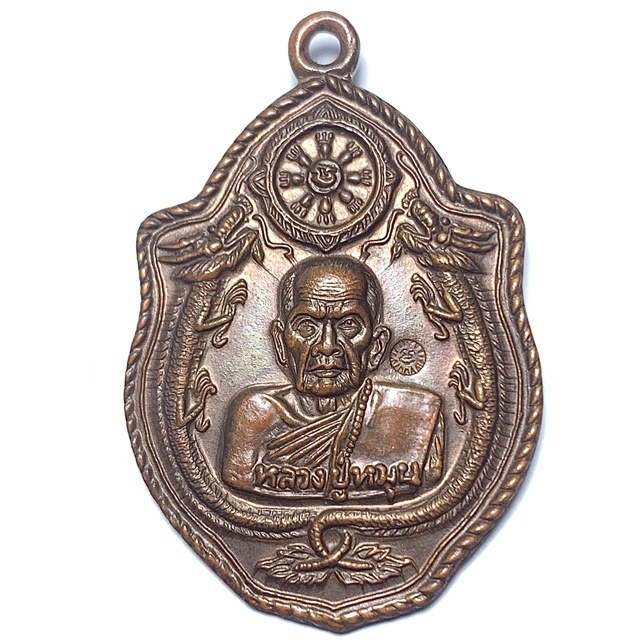 As we bid farewell to this mystical journey, let us carry the teachings of Luang Pu Moon within us, like a sacred flame that illuminates our path. In his amulets, we find not just material artifacts but conduits of divine blessings that connect us to the sacred realms. May we remember this legacy with reverence and gratitude, knowing that we are forever touched by the luminous presence of Luang Pu Moon.
May the blessings of Luang Pu Moon guide us on our journey towards enlightenment, and may his amulets be a source of protection and fortune, for all who seek their divine power. In the realm of the sacred, we are eternally blessed.
---